Monday, May 4, 2009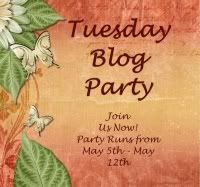 From now until May 12th, I am holding this give-away to help benefit the Tuesday Fiona Whitt Foundation. Tuesday was the beautiful twin daughter of my sister-in-law's dear friend Jessica Kate. Tuesday bravely fought and sadly lost her 8 month battle with stage 4 neuroblastoma in January of this year. Debi (my SIL) and her friends from Jess' multiples group have decided to put together an annual blog party to help raise funds to fight pediatric cancer, specifically neuroblastoma, as it is the least funded of ALL cancers yet one of the most fatal.
The first item up for auction is a pair of brand new chocolate brown size 13 Medium Kenneth Cole Girl Ballet Flats.
I actually bought these for my daughter online, but was a bit suprised to receive TWO pairs instead of one. Unfortunately, I paid for 2 pairs as well. I thought I'd just keep both pairs since Katie scuffs up all her dress shoes so quickly, but Debi pointed out that they may make a great giveaway for the Tuesday Blog Party.
My second item is a set of 3 brand new (still in shrink wrap) Baby Einstein DVD's: Baby Mozart, Baby Bach, and Baby Galileo.
I figured since my first item was so specific that these DVD's may interest a slightly larger group. Even if you don't have a baby or toddler yourself who may appreciate them, they would make great baby shower gifts!!
All you have to do to enter to win either auction is simply leave me a comment letting me know whether you are interested in winning the shoes or the DVD's and then and be sure to donate $1 to the Tuesday Fiona Whitt Foundation for each entry.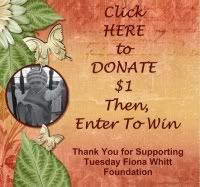 Please leave a separate comment for each giveaway and a separate comment for each entry you would like. I'll use a random number generator to pick the winner on the 13th.
Also, head on over to the Tuesday Blog Party to see what other fantastic items are being auctioned off. There are lots of great auctions going on and all it costs is one dollar to enter each one. If you would like to make one donation, instead of many individual donations, please feel free to donate however is easiest for you. If you end up donating $10, but only find 5 auctions you are interested in, you can use those additional dollars as additional entries :)
Thank you so much for supporting a great cause! Cancer sucks and is striking too many of my friends and family. As my friend Carolyn, who is currently suffering from stage 4 breast cancer that has moved to her lungs, says: F$&k Awareness; find a cure!" (Although she spells all 4 letters out very nicely.) So for Tuesday, my friend Carolyn, my dad, my aunt Mildred (my dad's sister), my cousin Kelli, my aunt Dotty, and most recently my Aunt Carol...enough is enough...find a cure!!!!
P.S. I'll start back up sharing all about our Disney trip soon...just waiting on those pictures from the Photopass that I told you about.